Even if you've only loosely looked at bitcoin price analysis there is a good chance the term "double top" has came across your eyes.
It is that phase indeed that I am pondering as I look at the bitcoin chart.
Double Top or Breakout?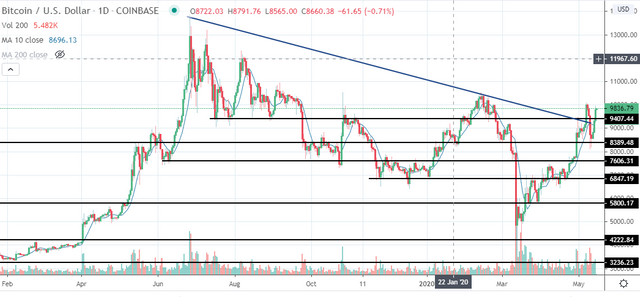 Yes, it is too early to make a conclusion, but this is what we should be watching.
I will give you a clear example
Look back to the period of June to August on the chart above. Do you see how we had that nice steep run up that was followed by a quick dip only to see price run up toward that previous high.
However, on that occasion price fell short – the top was in. Price trended lower the rest of the year.
I could scan the bitcoin chart back into 2018 and so forth to show more examples, but you get the point.
With price making a longer duration run up of late to peak at 10K before a quick sell off the real question is – will we see bitcoin run out of gas here.
If bitcoin cannot establish above the 10K level in the coming weeks then the top for 2020 is in. This is just a technically hypothesis though, because that event still needs to happen and I personally believe bitcoin is actually consolidating to make a post halving run higher in the coming weeks.
Either way, I will let price action tell me the answer.